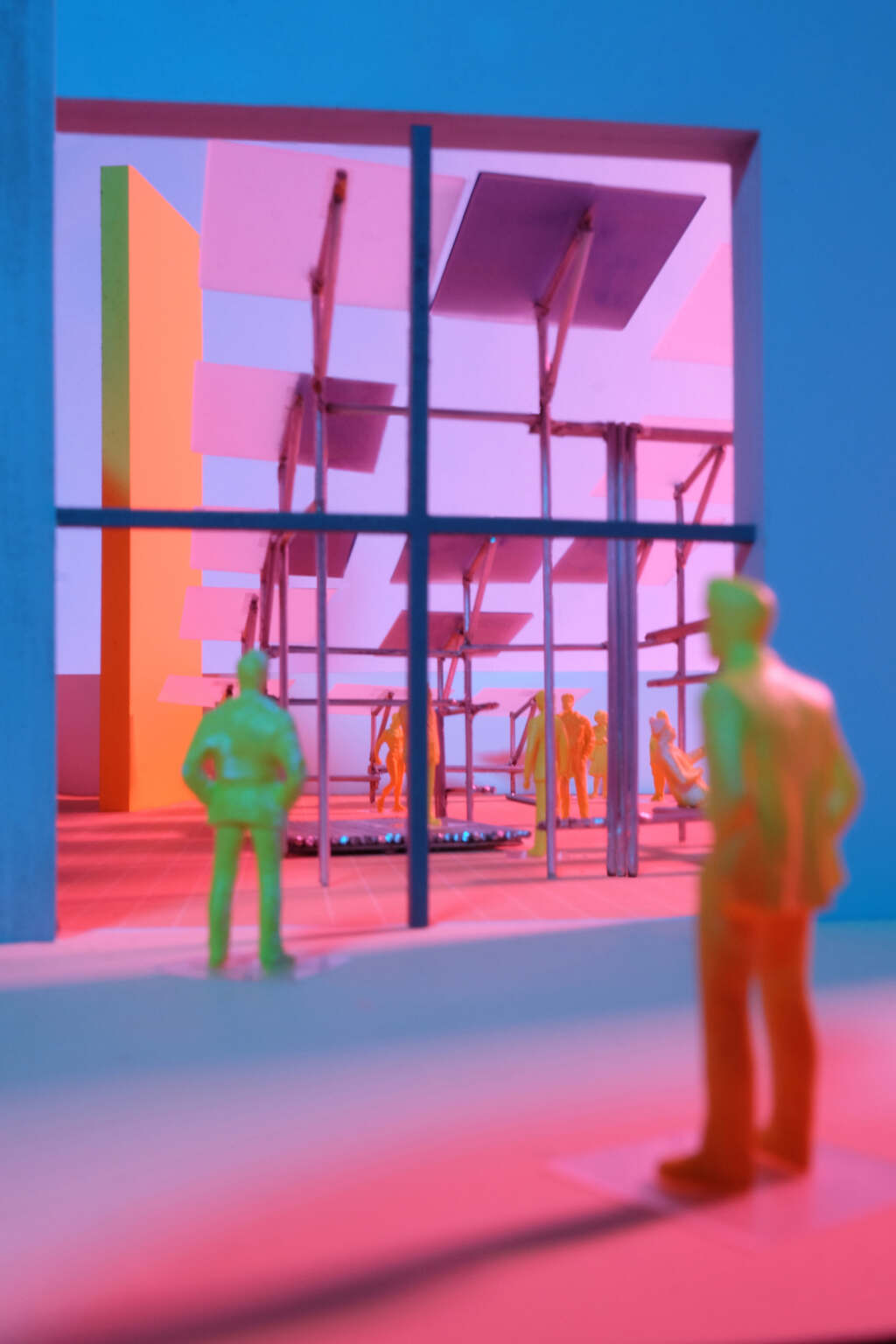 Prototipo Eco is a photovoltaic energy pavilion that blurs the distinction between the natural and artificial. Positioned in the outdoor patio of Museo Experimental El Eco in relation to sun and shadow, like trees in a park, prototype units frame areas for public programming and power all museum activities.
Prototipo Eco es un pabellón de energía fotovoltaica que desdibuja la distinción entre lo natural y lo artificial. Posicionado en el patio del Museo Experimental El Eco en relación con el sol y la sombra, de manera semejante a los árboles en un parque, los módulos del prototipo enmarcan áreas para el programa público y suministran energía para todas las funciones del museo.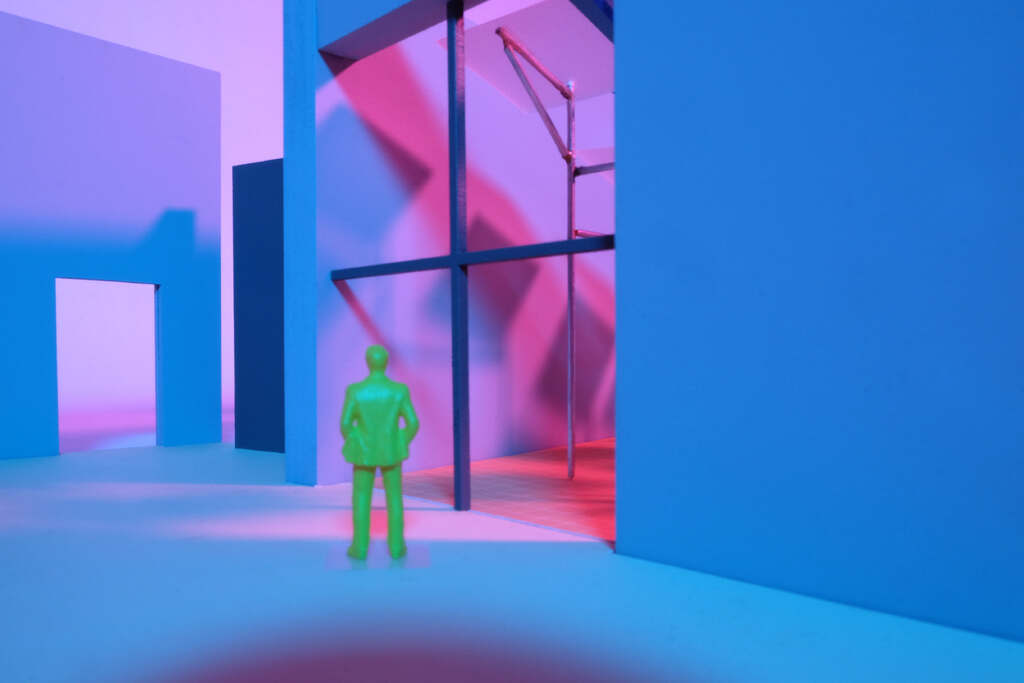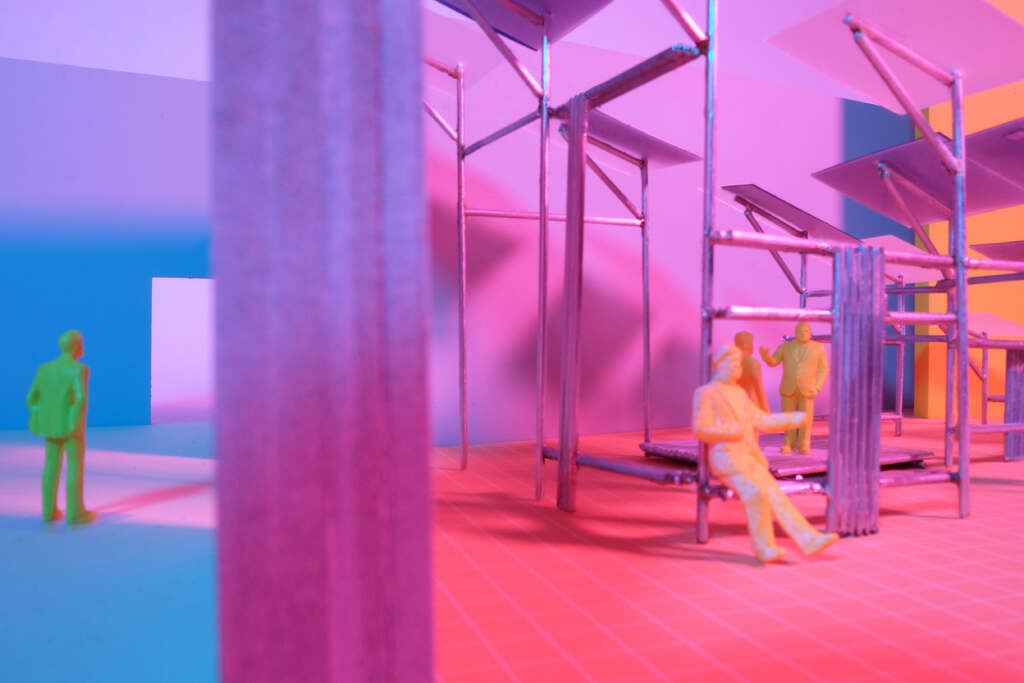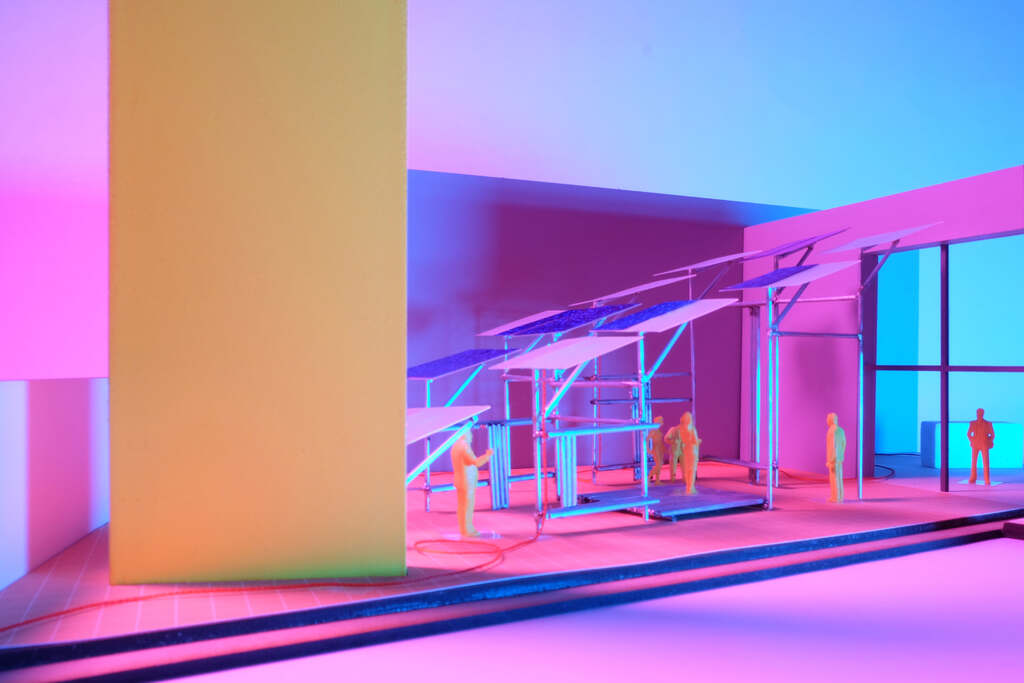 In 2018, the President of Mexico Andrés Manuel López Obrador campaigned to achieve national "energy sovereignty" by prioritizing hydrocarbon industries and announcing a new Pemex refinery in Dos Bocas, Tabasco. The development of renewable energy sources was subsequently discouraged despite Mexico's immense potential for solar energy production, due in part to the role that foreign investment played in the growth of this industry during the previous administration.
⠀⠀⠀⠀⠀⠀⠀⠀⠀⠀⠀⠀⠀⠀⠀⠀⠀⠀⠀⠀⠀⠀⠀
For the Pabellón Eco 2020 competition we asked: Can the Museo Experimental El Eco achieve energy sovereignty by means of a temporary pavilion? How can the national and economic values of energy be redefined?
En el 2018, el Presidente de México Andrés Manuel López Obrador llevó a cabo una campaña con el objetivo de alcanzar la "soberanía energética" en el país, dando prioridad a las industrias de los hidrocarburos y anunciando una nueva refinería de Pemex en Dos Bocas, Tabasco. En consecuencia, el desarrollo de fuentes de energía renovables sufrió una desincentivación a pesar del inmenso potencial de México para la producción de energía solar. Ésta situación se debe también en parte al rol que ha jugado la inversión extranjera en el crecimiento de dicha industria durante las administraciones previas.
Para el concurso del Pabellón Eco 2020 preguntamos: ¿Puede el Museo Experimental El Eco alcanzar la soberanía energética por medio de un pabellón temporal? ¿Cómo pueden redefinirse los valores nacionales y económicos de la energía?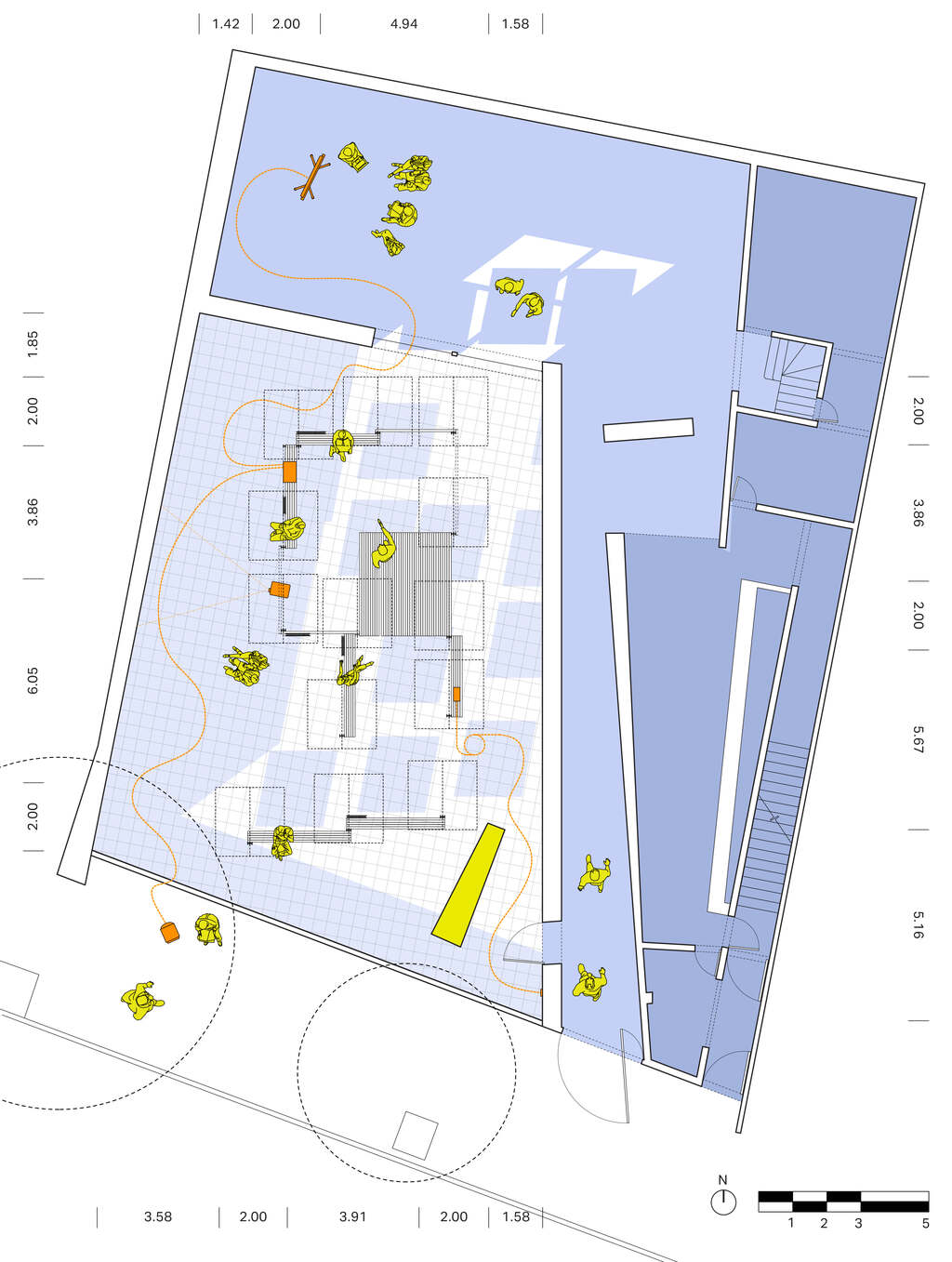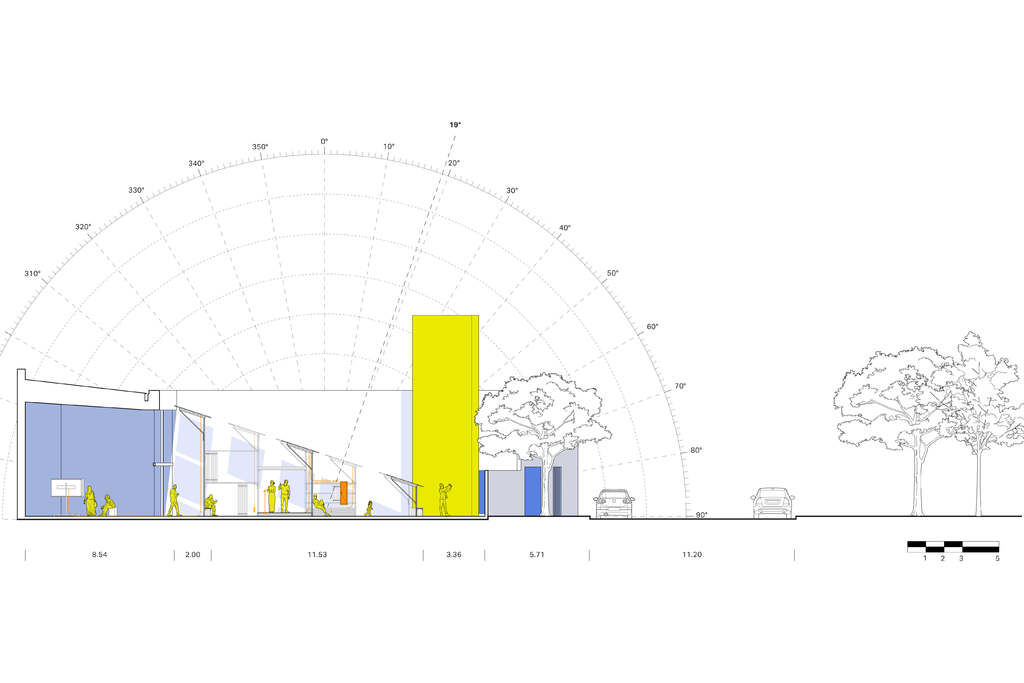 In response, Prototipo Eco is conceived of as a device that generates a product. The substructure is composed of industrial aluminum posts that form seating areas and low platforms, while the technological surface that hovers above is composed of photovoltaic and polycarbonate panels. Linking directly to the existing electrical circuit of the Museo Experimental El Eco, the pavilion provides sufficient energy for the museum's operation while inserting new discourses into the patio both formally and conceptually.
En respuesta, Prototipo Eco es conceptualizado como un dispositivo que genera un producto. La subestructura está compuesta por postes metálicos de aluminio que forman zonas de descanso y plataformas bajas, mientras que la superficie tecnológica superior está compuesta por paneles fotovoltaicos y de policarbonato. Conectado directamente al circuito eléctrico existente del Museo Experimental El Eco, el pabellón provee suficiente energía para la operación del museo e inserta formal y conceptualmente nuevos discursos en su patio.
Location
Museo Experimental El Eco
Mexico City
Year
2020
Status
Completed
Category
Competition
Ubicación
Museo Experimental El Eco
Ciudad de México
Año
2020
Estado
Terminado
Categoría
Concurso
Awarded
Finalist
Design
Departamento del Distrito in collaboration with curator Gabriel Villalobos
With technical support from
Enlight Mexico
Team
Francisco Quiñones
Nathan Friedman
Gabriel Villalobos
Premiado
Finalista
Diseño
Departamento del Distrito en colaboración con el curador Gabriel Villalobos
Con soporte técnico de
Enlight Mexico
Equipo
Francisco Quiñones
Nathan Friedman
Gabriel Villalobos