Ágora y Biblioteca Elena Poniatowska
Ágora y Biblioteca Elena Poniatowska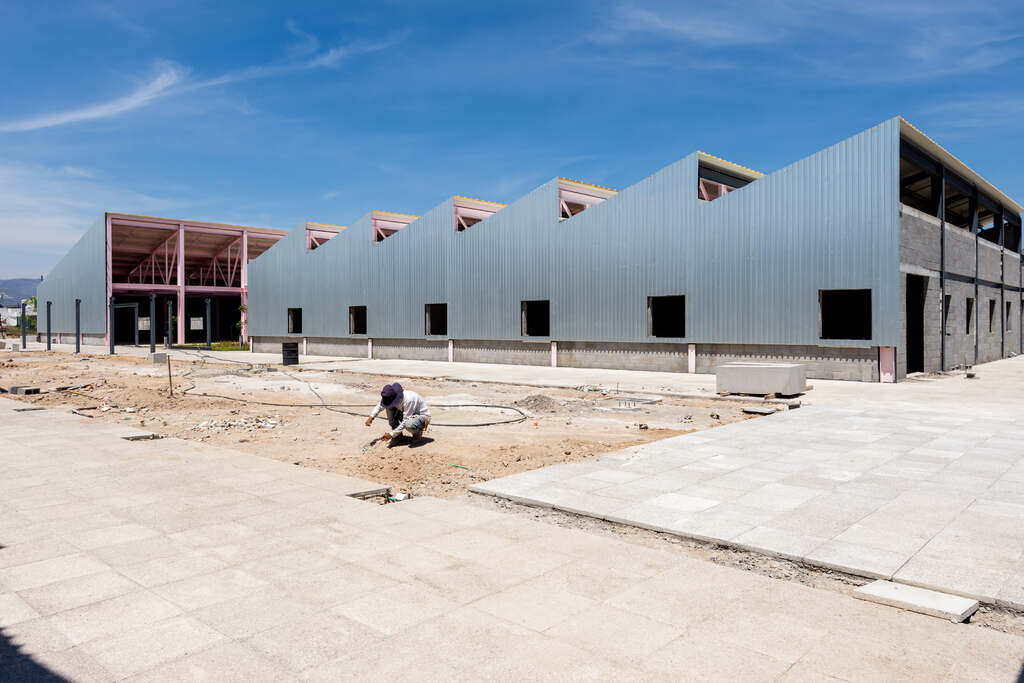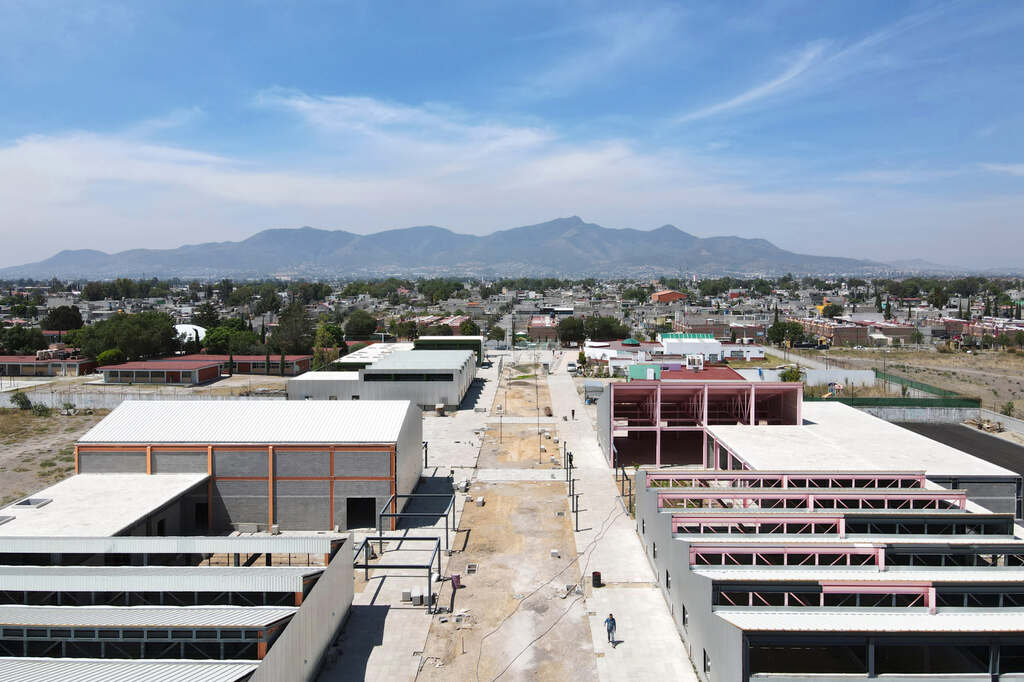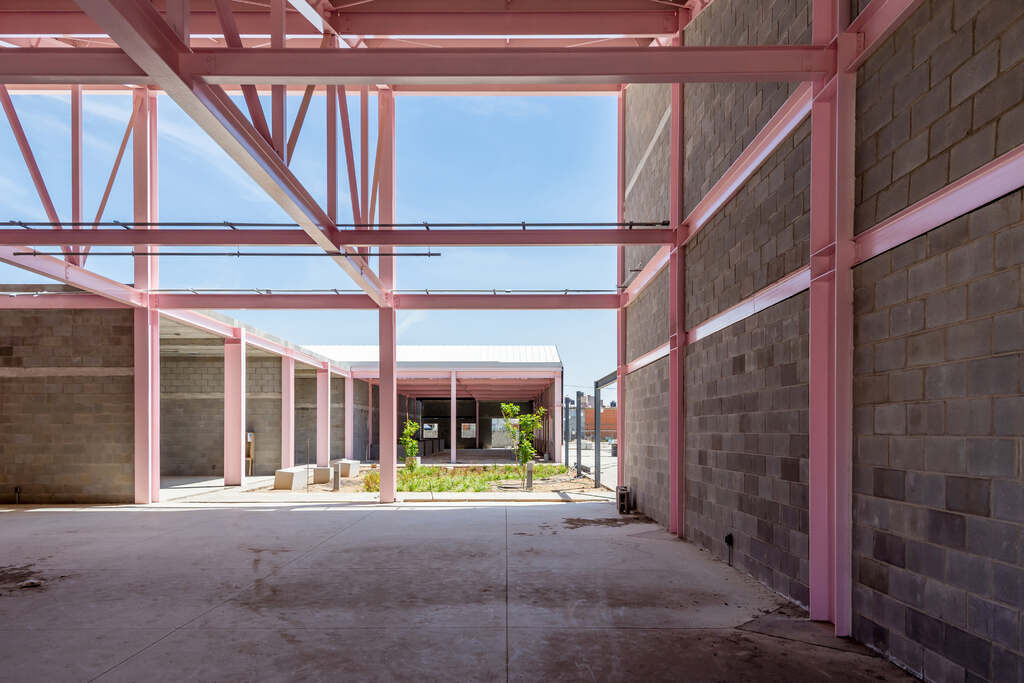 The Mexican federal government, through the Secretary of Agrarian, Territorial and Urban Development (SEDATU), began an ambitious plan in 2019 called the Urban Improvement Program (PMU). With the aim of developing public works in the municipalities and neighborhoods with the greatest needs in the country, to date the federal government, through the PMU and current AMLO administration, has carried out approximately 750 works in 24 states. This quantity of state-driven public architecture and development has not been seen in Mexico since the mid-twentieth century.
El Gobierno Federal de México a través de la Secretaría de Desarrollo Agrario, Territorial y Urbano (SEDATU) comenzó en el 2019 un ambicioso plan llamada Programa de Mejoramiento Urbano (PMU). Con el objetivo de desarrollar obra pública en los municipios y colonias con las mayores carencias del país, a la fecha el gobierno federal a través del PMU y de la administración de AMLO, ha llevado a cabo aproximadamente 750 obras en 24 estados. Esta cantidad de proyectos de arquitectura y desarrollo por parte del estado no se habían visto en México desde mediados del siglo veinte.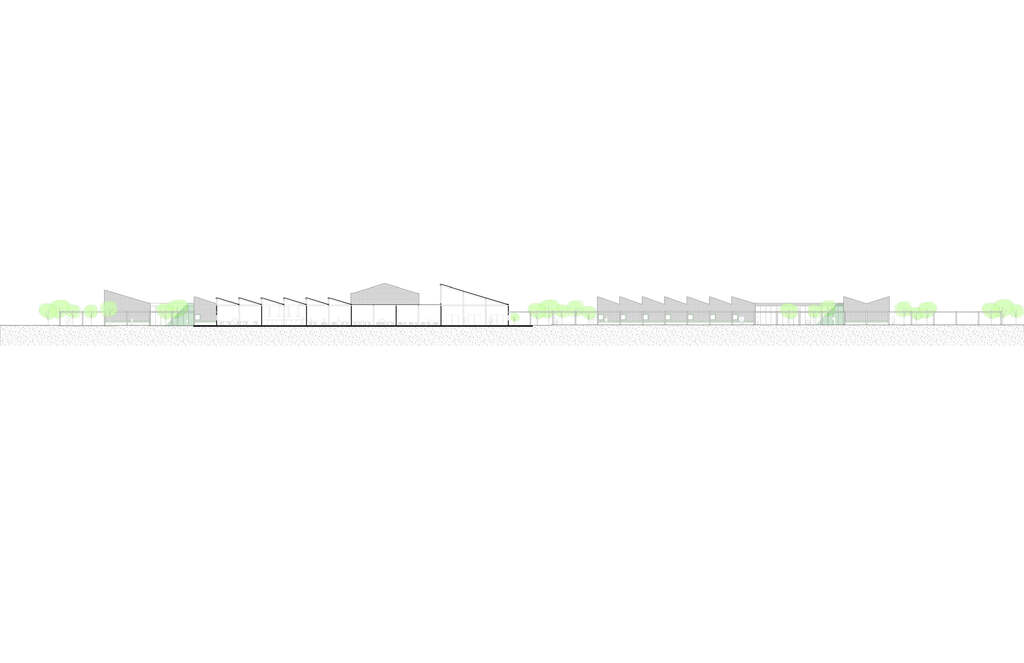 For the E1 stage of the program, Departamento del Distrito collaborated on the Elena Poniatowska Agora and Library in the municipality of Tultitlán de Mariano Escobedo. Tultitlán is an area that, due to its proximity to Mexico City and Querétaro, has an important industrial tradition. According to government projections, the corridor that it forms together with Cuautitlán Izcalli and Tepotzotlán will soon concentrate the greatest demand for industrial spaces in the country.
Para la etapa E1 del programa, Departamento del Distrito colaboró en el proyecto del Ágora y Biblioteca Elena Poniatowska en el municipio de Tultitlán de Mariano Escobedo. Tultitlán es un área que, por su proximidad con la Ciudad de México y Querétaro, tiene una importante tradición como centro industrial. De acuerdo con las proyecciones gubernamentales, el corredor que conforma junto con Cuautitlán Izcalli y Tepotzotlán concentrará pronto la mayor demanda de espacios industriales del país.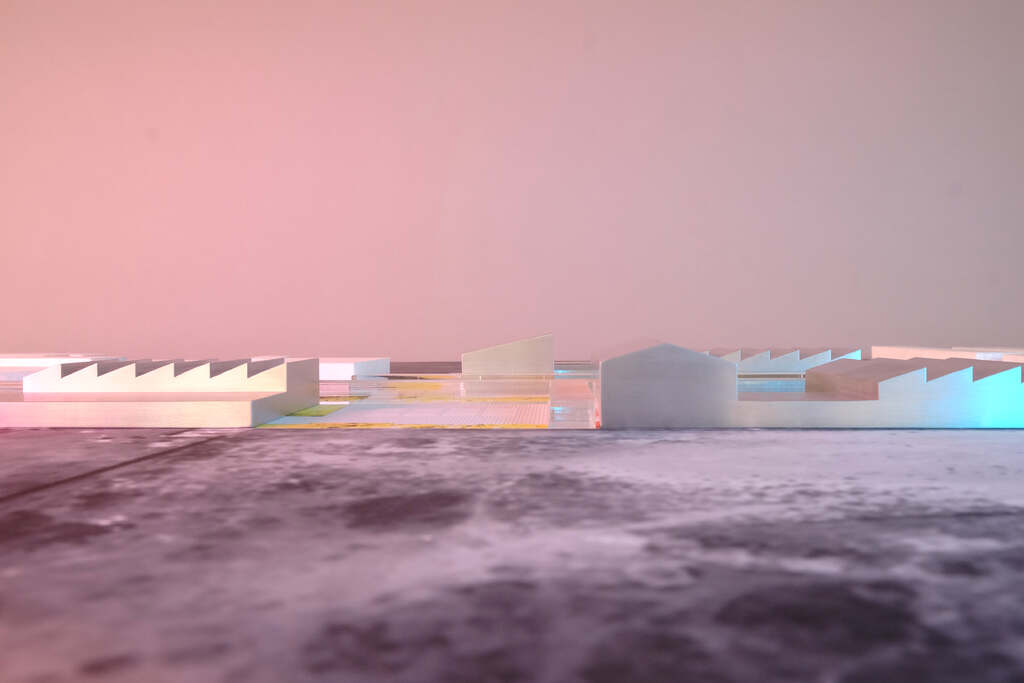 The Elena Poniatowska Agora and Library is a 222-meter-long public complex located just north of Mexico City, 10km away from the new Felipe Ángeles International Airport (AIFA). The project inserts a new pedestrian axis within an existing superblock-sized urban parcel, and contains a range of public programs relating to healthcare, arts, culture, and education. The pedestrian axis functions as both urban plaza and park. Arid gardens, seating, and lightweight metal pergolas cut down the site north to south and link to three new single-level buildings.
El Ágora y Biblioteca Elena Poniatowska es un complejo público de 222 metros de largo que se ubica al norte de la Ciudad de México, a tan solo 10km de distancia del nuevo Aeropuerto Internacional Felipe Ángeles (AIFA). El proyecto inserta un eje peatonal dentro de una mega-manzana existente, la cual contiene una serie de programas públicos esenciales relacionados con la salud, las artes, la cultura y la educación. El eje peatonal funciona al mismo tiempo como plaza urbana y como parque. Jardines áridos, espacios para sentarse y ligeras estructuras metálicas tipo pérgola cortan el sitio de norte a sur y vinculan a los tres nuevos edificios.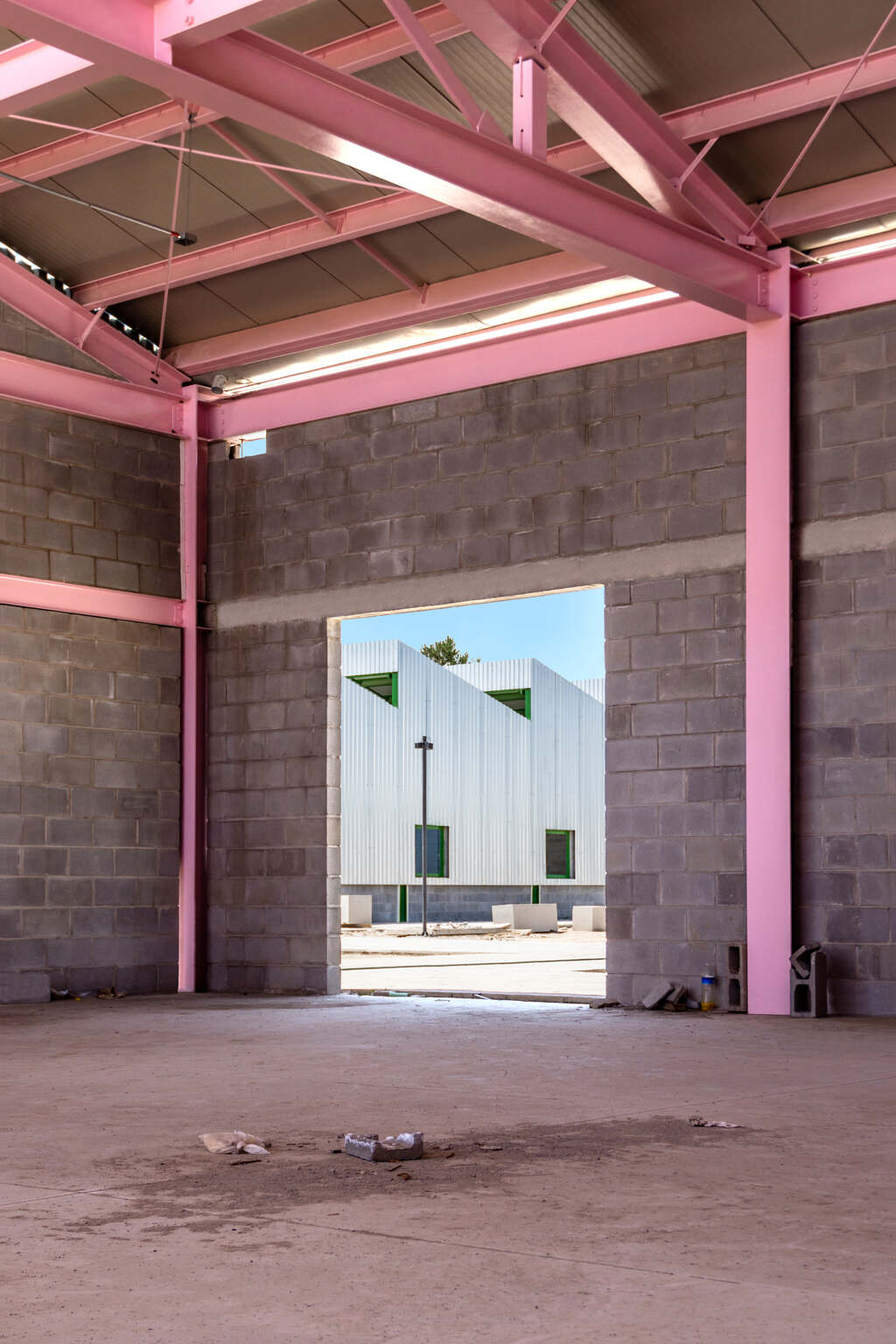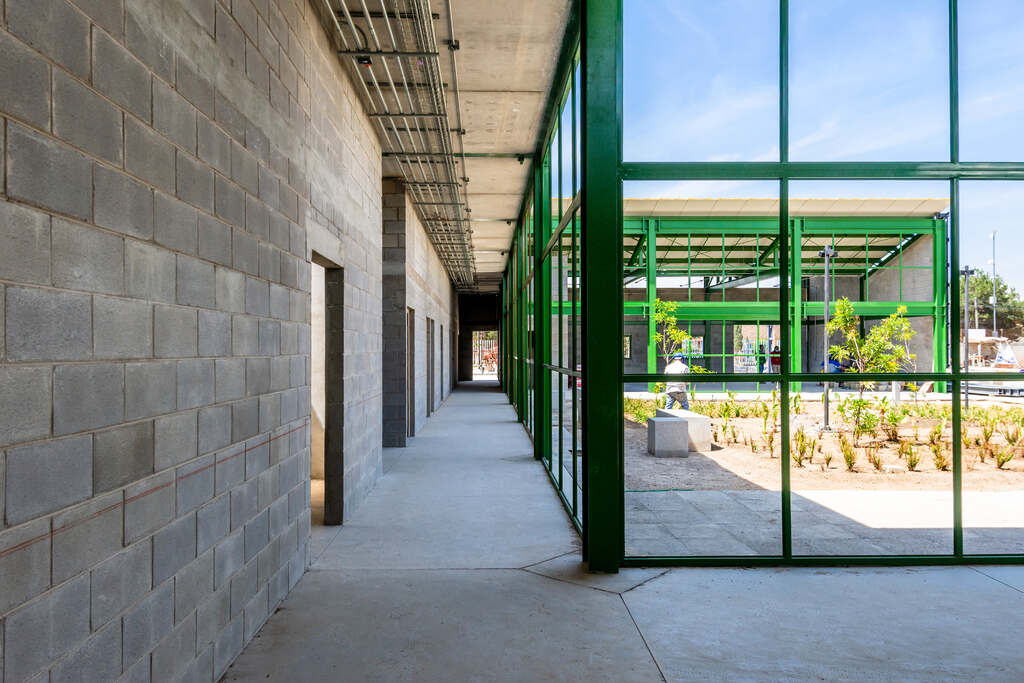 Taking cues from the industrial warehouse typologies of Tultitlán, the new buildings are based on a 5mx5m structural module that provides internal flexibility and supports future adaptations. The intense sunlight of the region is controlled and filtered to interior spaces through a series of skylights and courtyards. Corrugated metal sheeting uniformly wraps the exterior facades and playful sawtooth roof variations are placed in relationship to major programs. The interior steel structure of each building is highlighted with a unique color as a way-finding device: green for the social services and medical center; orange for the library and adjacent auditorium; and light pink for the arts and culture hub.
Tomando como ejemplo las tipologías de las bodegas industriales de Tultitlán, los nuevos edificios se basan en un módulo estructural de 5mx5m el cual proporciona flexibilidad interior y permite adaptaciones futuras. Los intensos rayos de sol de la región son controlados y filtrados hacia el interior de los espacios a través de una serie de tragaluces y patios. El metal corrugado envuelve uniformemente las fachadas exteriores y lúdicas variaciones de cubiertas tipo dientes de sierra son colocadas en relación con ciertas actividades interiores. La estructura metálica interior de cada edificio es resaltada a través de colores únicos los cuales funcionan como dispositivo de navegación: el verde para los servicios sociales y el centro médico; el naranja para la biblioteca y el auditorio adyacente; y el rosa pálido para las artes y el centro cultural.
Location
Tultitlán de Mariano Escobedo
Estado de México
Mexico
Client
SEDATU
Municipal Government of Tultiltán
Year
2020-2023 (expected completion)
Category
Public work
Status
In construction
Construction
Grupo TADCO
Photographs
Adriana Hamui
Departamento del Distrito
General coordination
ORU
Design coordination
Departamento del Distrito
Architectural and urban design
ORU
Departamento del Distrito
Taller Architects
Ricardo García Santander
Landscape architecture
Virens Paisaje
Executive project administration
ORU
Coordination assistance
Elizabeth López
César Ávila
Executive project consultancy
Departamento del Distrito
James O'Brien
Santiago Bonilla
Ubicación
Tultitlán de Mariano Escobedo
Estado de México
México
Cliente
SEDATU
Gobierno Municipal de Tultiltán
Año
2020-2023 (terminación prevista)
Categoría
Obra Pública
Estado
En Construcción
Construcción
Grupo TADCO
Fotografías
Adriana Hamui
Departamento del Distrito
Coordinación general
ORU
Coordinación de diseño
Departamento del Distrito
Diseño arquitectónico y urbano
ORU
Departamento del Distrito
Taller Architects
Ricardo García Santander
Arquitectura de paisaje
Virens Paisaje
Administración de proyecto ejecutivo
ORU
Asistencia a coordinación
Elizabeth López
César Ávila
Asesoría de proyecto ejecutivo
Departamento del Distrito
James O'Brien
Santiago Bonilla
Executive project
development
Vectores Urbanos
Allison Steiger
Architectural project consultancy
Departamento del Distrito
Architectural project development
Taller Architects
Lighting
Circadia
Signage
Estudio Herrera
Structural executive project
José Pablo Alcázar
GRUPO TADCO
Structural design consultancy
Susana Ezeta
Installations executive project
Ernesto Plascencia, Isaac Plascencia
Cost records
Macros A & M
Fortunato Avelino Ángel
Bioclimatic consultancy
Adriana Lira Oliver
Mobility and universal accessibility executive project
Erik Cisneros, Jesús Hernández
Mobility consultancy
Denébola Caraveo
Models, renderings, and interior furniture coordination
Departamento del Distrito
Construction site management
FOA Ingeniería
Desarrollo de proyecto ejecutivo
Vectores Urbanos
Allison Steiger
Asesoría de proyecto arquitectónico
Departamento del Distrito
Desarrollo de proyecto arquitectónico
Taller Architects
Proyecto de iluminación
Circadia
Diseño de señalética
Estudio Herrera
Proyecto ejecutivo estructural
José Pablo Alcázar
GRUPO TADCO
Asesoría de diseño estructural
Susana Ezeta
Proyecto ejecutivo de instalaciones
Ernesto Plascencia, Isaac Plascencia
Expediente de costos
Macros A & M
Fortunato Avelino Ángel
Asesoría bioclimática
Adriana Lira Oliver
Proyecto ejecutivo de movilidad y accesibilidad universal
Erik Cisneros, Jesús Hernández
Asesoría de movilidad
Denébola Caraveo
Coordinación de elaboración de maquetas, imágenes objetivo y mobiliario interior
Departamento del Distrito
Gerencia de ejecución de obra
FOA Ingeniería